Dublin Sessions


Entertainment In And Around Dublin



St. Patrick's Day
Friday 17th March 2023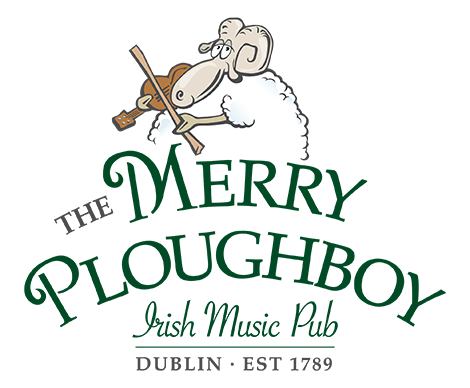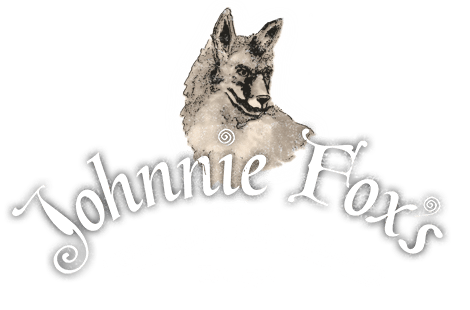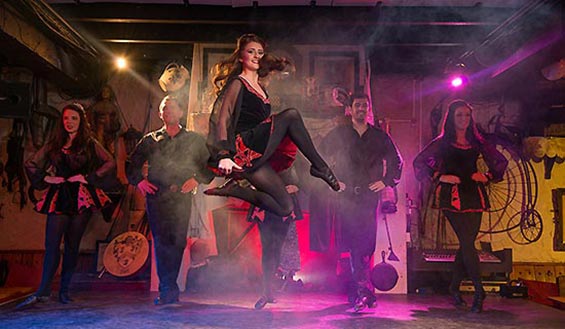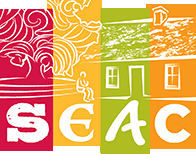 St. Patrick's Day at TSEAC
Doors: from 2pm – 7pm

TSEAC Are celebrating St. Patrick's Day in true traditional style as we invite all musicians and listeners alike down to The Séamus Ennis Arts Centre for an afternoon of craic agus ceol! This open traditional Irish music session will take place outside the front of the centre, and we couldn't picture anything better than a celebration of all things Irish against our picturesque, thatched cottage backdrop! Our family friendly day of celebrations will include traditional Irish Music sessions with Paudie O'Connor and friends, street food and MORE! We can't wait to see you there!

WHELAN'S FULL IRISH
10+ BANDS + INDIE CLUB
1PM-2:30AM
Whelan's Main Venue & Upstairs
---
St.Patrick's Day is always guaranteed to be a great night in Whelan's and this year is no different. We've got tons of the best up and coming Irish acts, playing a variety of music, for your listening pleasure.
13:00: BAR OPENS
16:00: LIVE MUSIC ON 2 STAGES
23:00: INDIE CLUB [MAIN VENUE] – MORE LIVE MUSIC [UPSTAIRS]
02:30: BAR CLOSED
— — — — —
LINE-UP:
16:00-16:45  FOUR FACES
17:00-17:40  FIND JOY
18:00-18:40  CABL
19:00-19:40  AONAIR
20:00-20:40  SPEARSIDE
21:00-21:40  TBA
22:00-22:40  NOAH
17:30-18:15  TBA
18:30-19:15  TBA
19:30-20:15  BIG SLEEP
20:30-21:15  LATE NIGHT PHARMACY
21:30-22:15  LA DI DA
22:30-23:15  TBA
23:35-00:15  TBA
00:30-01:15  GROOVELINE
The Grand Social

ST PATRICK'S DAY PARTY- FREE IN – 8 bands – 2 – 10.30pm
Post Party + Cruel Sister+ Qbanna+ Chris Wong+ Fortune Igiebor+ The White Fangs
Kayleigh Noble + More to Be announced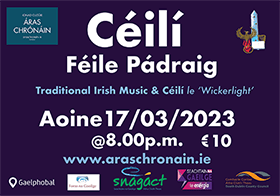 17/02/2023
Céilí Lá le Pádraig Aoine 17/03/2023 Tosú: 8.00p.m. Cead Isteach: €10 TICÉID: CLIC ANSEO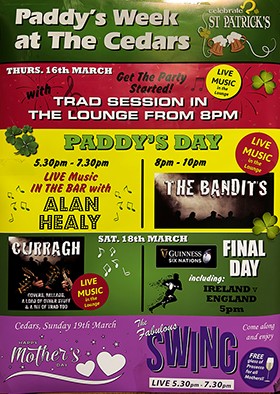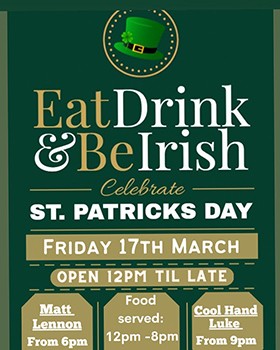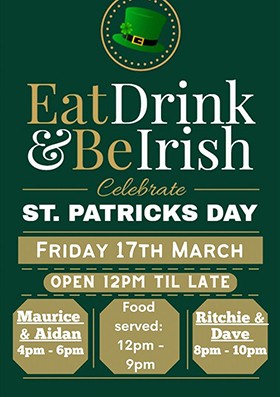 Dublin Sessions ~

Entertainment In & Around Dublin
For a free basic listing for your pub or venue on Dublin Sessions just send a good picture of the venue with the name and contact details you would like to appear on the site, usually an address, email contact and phone number.