The Grand Social
35 Lower Liffey St.
Dublin 1.
Ireland.
+353 1 874 0076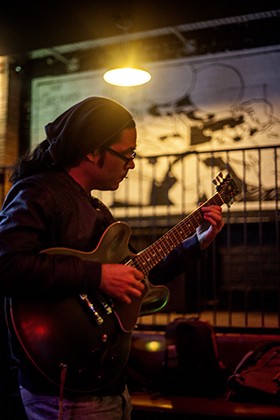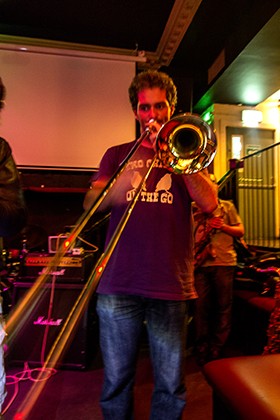 Welcome to The Grand Social
Friday 30th September
Slow Magic – 7.30pm. Tickets: €17.35 incl booking fee
Recognized by his multicolored animal mask, Slow Magic is an enigmatic DJ and producer known for his otherworldly, yet still pop-savvy, synth and electronic sound. He first emerged with 2012's Triangle and gained even wider attention with 2014's How to Run Away and 2017's Float.
Saturday 1st October
Remember Sports – 7.30pm. Tickets: €13.12 incl booking fee
Remember Sports is a Philadelphia-based band, originally conceived in the tiny Midwestern college town of Gambier, Ohio, comprised of members Carmen Perry (vocals, guitar), Jack Washburn (guitar), Catherine Dwyer (bass), and Connor Perry (drums). Their peppy indie powerpop encapsulates the melancholy and excitement of growing up while Carmen's writing is diaristic and intimate; a strange amalgam of both melancholy and joy.
Saturday 1st October
Soulful Strut – 9pm. Tickets: €10
For this event, joining your residents John, Lucy & Polly our special guest dj, Joe Tucker from UK (3Keys Mod Weekender and Soulful Stomp!) for an all vinyl, soulful night of dancefloor delights not to be missed! No matter what your taste, Classic, Motown, Northern, Mod, RnB, Funk, Disco or even the soulful side or Ska and Reggae there will be something for you!!! • 9 until late • The Ballroom @ The Grand Social.
Wednesday 5th October
False Heads – 7pm. Tickets: €13 incl. booking fee
False Heads. With support from Red Eye Pariah & Strangers with Guns. Having met at Coopers' Company and Coborn School in Upminster, the three members reconvened after university to make music together in late 2015. While all members had collaborated creatively with each other in the past and Griffiths had previously released music under the title, this marked the first time they began to perform together as False Heads.
Thursday 6th October
Ireland Music Week 2022 – 11pm. Tickets: €8 – €80
Ireland Music Week is delighted to announce that, after two years online, the festival will return live and kicking to Dublin venues in October. The international facing showcase and conference, now the twentieth year, will take place from October 4th-7th. 50 acts will be showcasing in this internationally-recognised event showcasing Ireland's best emerging talent. For artists of all levels, the conference at the festival will give them a chance to learn and develop their craft and create new opportunities with agents, labels, bookers, music supervisors and services from all over the world.
Saturday 8th October
Trojan Sound System – Rescheduled – 8pm. Tickets: €22 incl booking fee
Live Free Tour Booking Present Trojan Sound System. Formed in 2004, London-based Trojan Sound System are an institution in British Sound System culture. A talented team of selectors and vocalists, they relentlessly tour the globe, representing the most seminal reggae and ska record label in history.
Sunday 9th October
Anvil – 7pm. Tickets: €21.80 incl booking fee
Anvil play The Grand Social Dublin!
Wednesday 12th October
Pears (Fat Wreck Chords) – Cancelled

Saturday 15th October
De Staat Announce Headline Dublin Show – 7.30pm –  Tickets: €20.90 incl booking fee
With their spectacular viral video Witch Doctor and support slots for Muse and the Rolling Stones, De Staat remain joyfully uncategorisable. Under the wing of frontman Torre Florim, whose big voice works like a call-to-arms, they flirt with funk and tribal rhythms, introspection and wild humour, owing more to David Byrne or Prince in their musical attitude than any ordinary rock band. And fourteen years into their career, they're about to launch their new project: Red, Yellow, Blue.
Wednesday 19th October
Indie Night – 7.30pm –  Tickets: €11.53 incl booking fee
INDIE NIGHT – The Decades | Anie Valentine | Michael Runswick | Borning Brxwn Eyes
Dublin Sessions ~

Entertainment In & Around Dublin
For a free basic listing for your pub or venue on Dublin Sessions just send a good picture of the venue with the name and contact details you would like to appear on the site, usually an address, email contact and phone number.
087 9777 120